Battlemesh v15
Dates: Monday 2023-05-08 to Sunday 2023-05-14
Coordinates: Calafou, Barcelona, Europe
Orga crew contact: v15 at battlemesh.org
Matrix: https://matrix.to/#/#battlemesh:matrix.org
Public mailing list: https://ml.ninux.org/mailman/listinfo/battlemesh
Twitter: https://twitter.com/battlemesh
Mastodon: https://toot.aquilenet.fr/@battlemesh
---
The Wireless Battle Mesh is a non-commercial, volunteer-organized annual convention.
The convention features a variety of talks and workshops on technical and political issues related to mesh networking, wireless community networks and Openwrt firmware development.
The purpose of the event is to further topics such as right to connectivity, community-owned infrastructure and related free open source projects.
Important dates
Deadline for accommodation packages: Book until March 31st for early bird discount!
Where
Location of the main event
The Battlemesh v15 will be hosted by the fabulous Calafou / colonia ecoindustrial postcapitalista members in Barcelona, Europe
The community voted for this year's edition to take place from Monday 2023-05-08 to Sunday 2023-05-14.
The Calafou compound is very spacious and offers plenty of room for hacking, workshops, socializing, building test beds and more!
Calafou: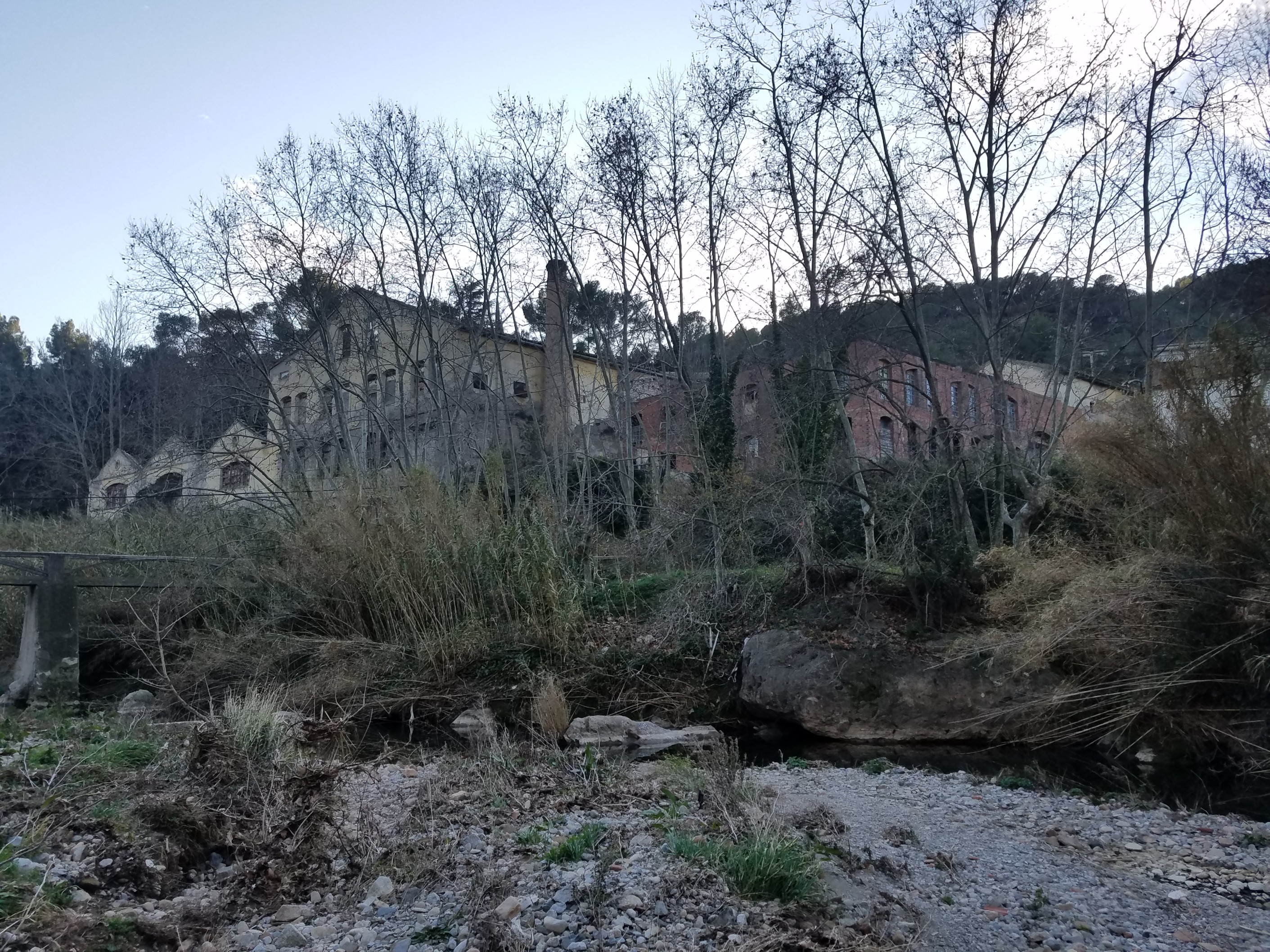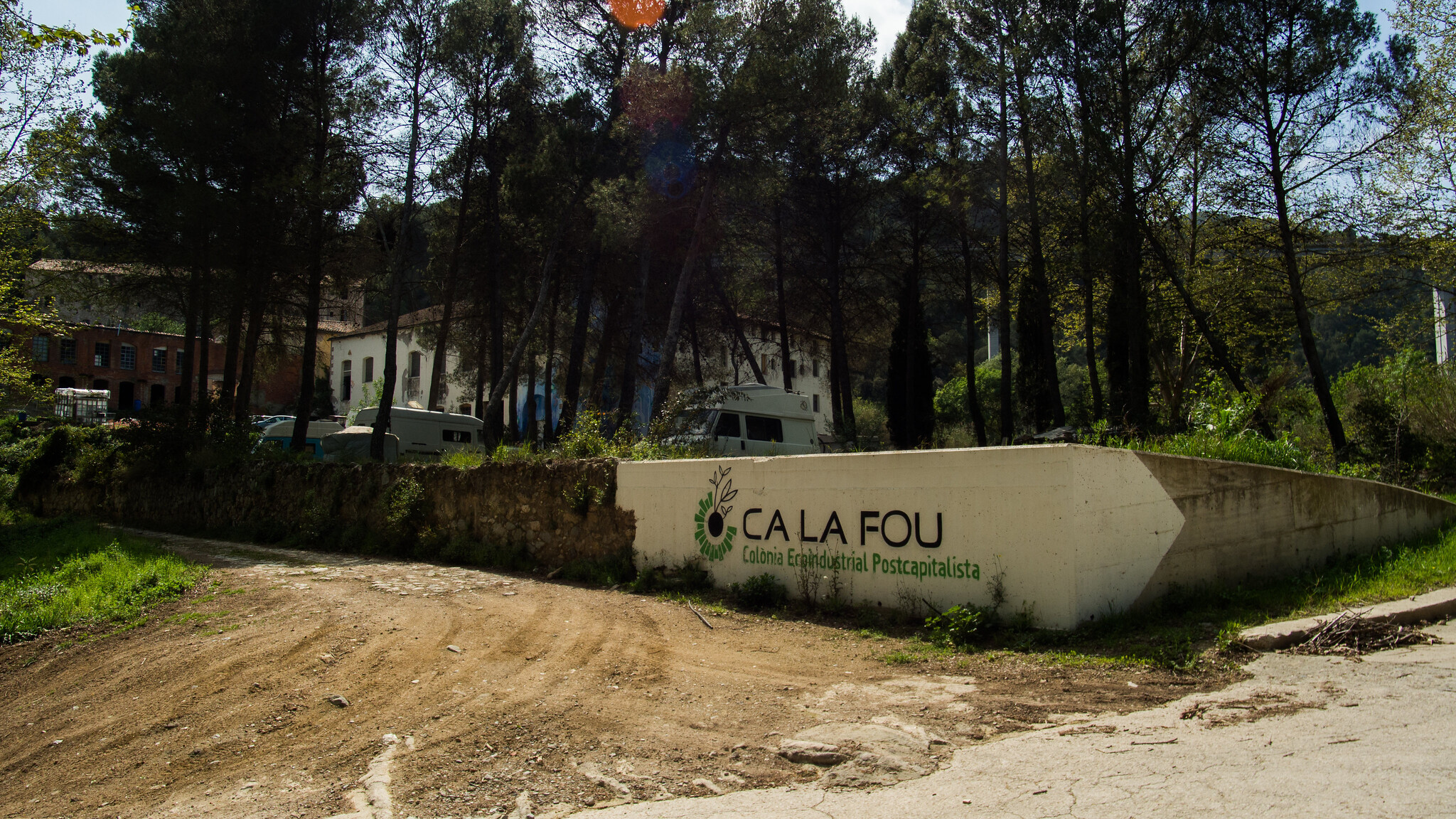 Main hall & primary hackspace for the battlemesh: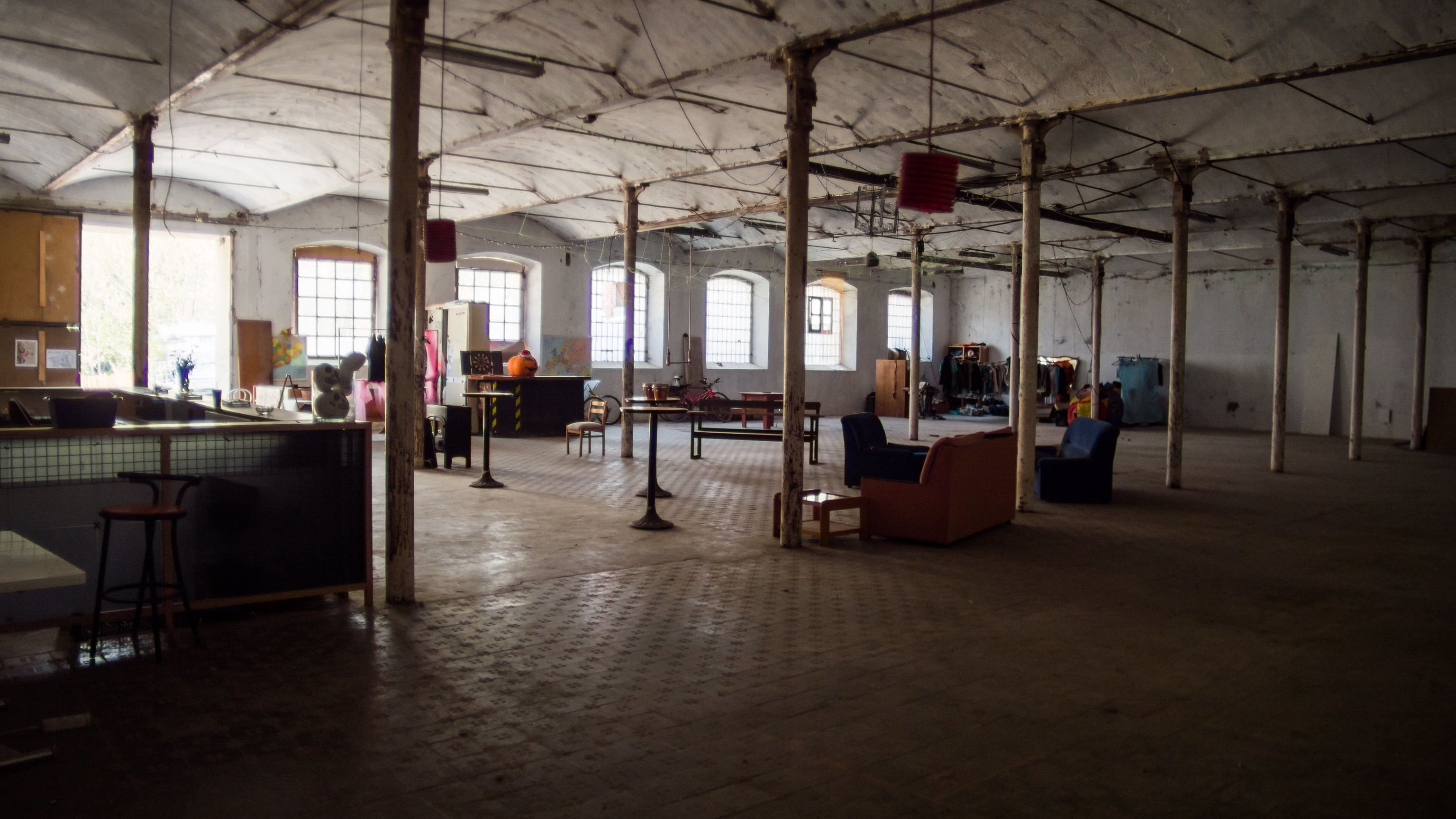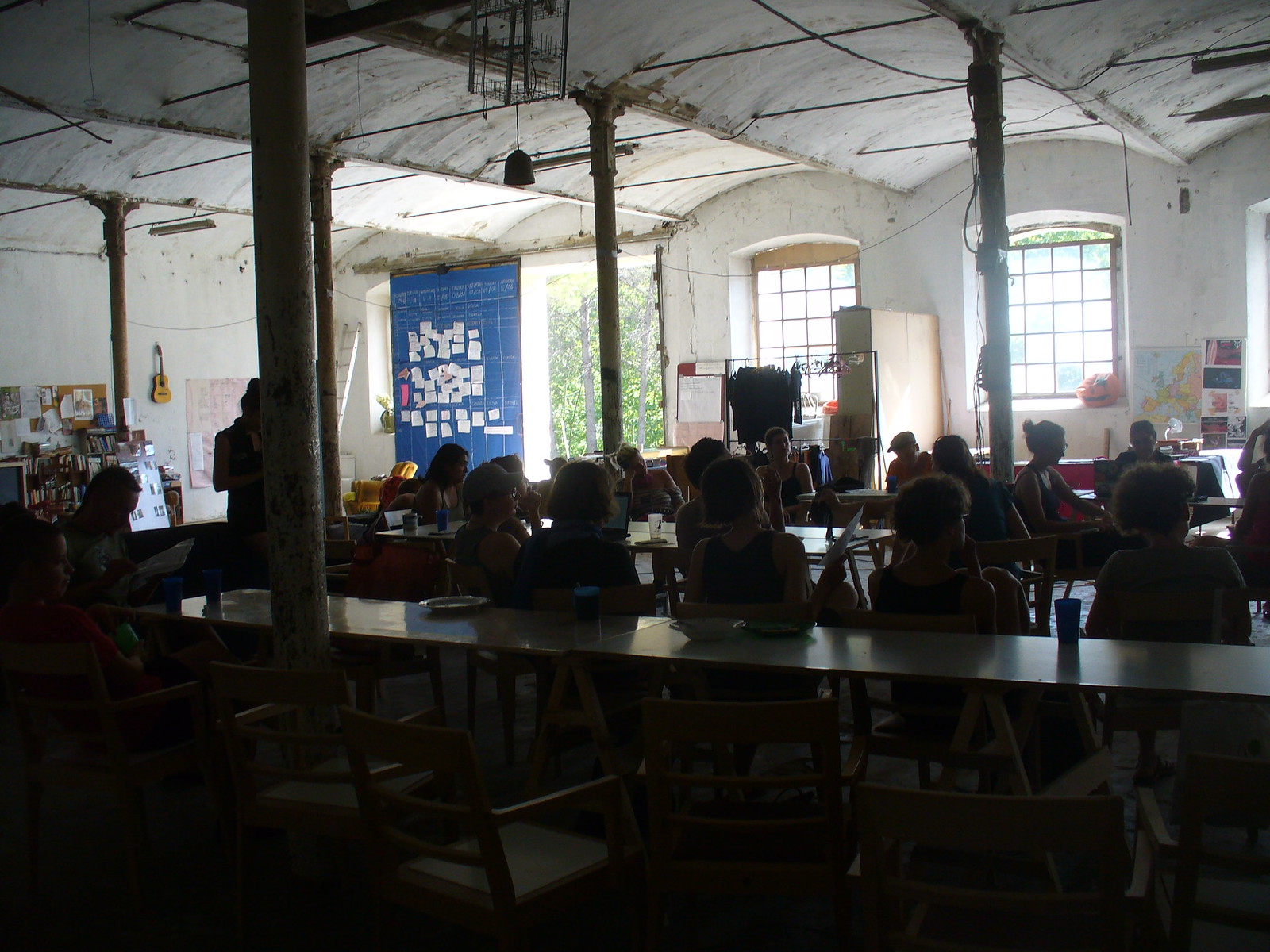 The recently refurbished church directly on the compound will serve as meeting point & special event location: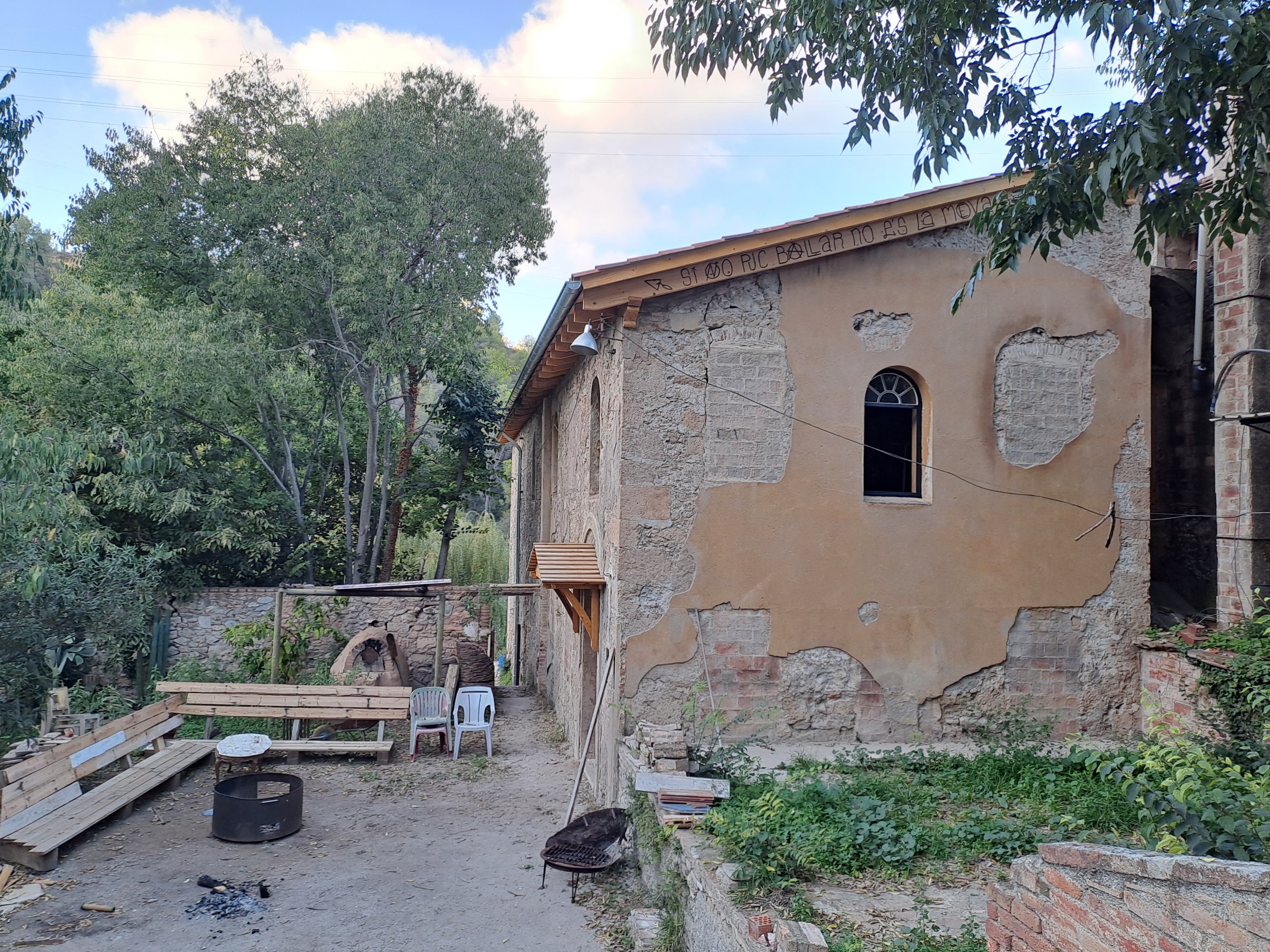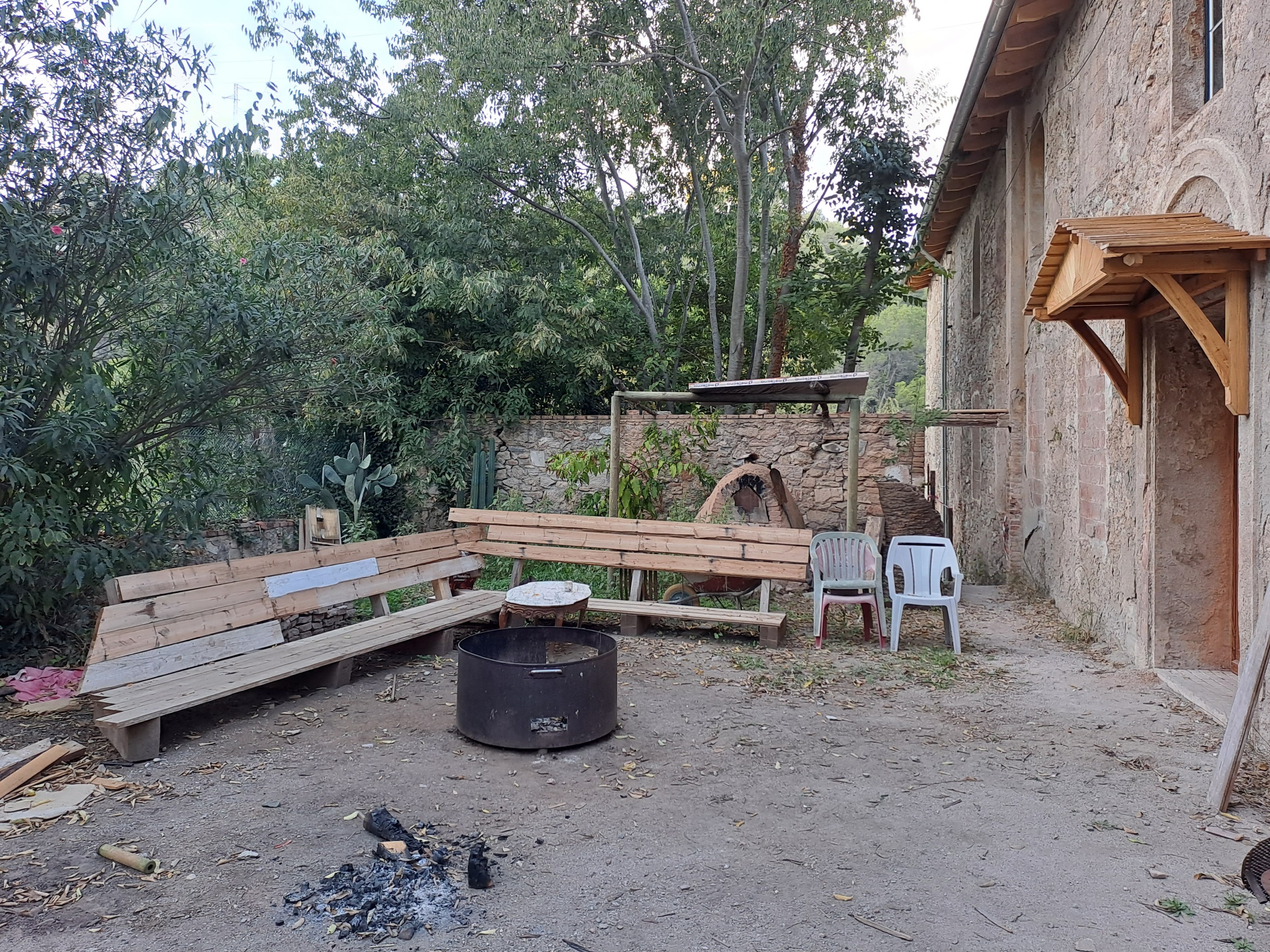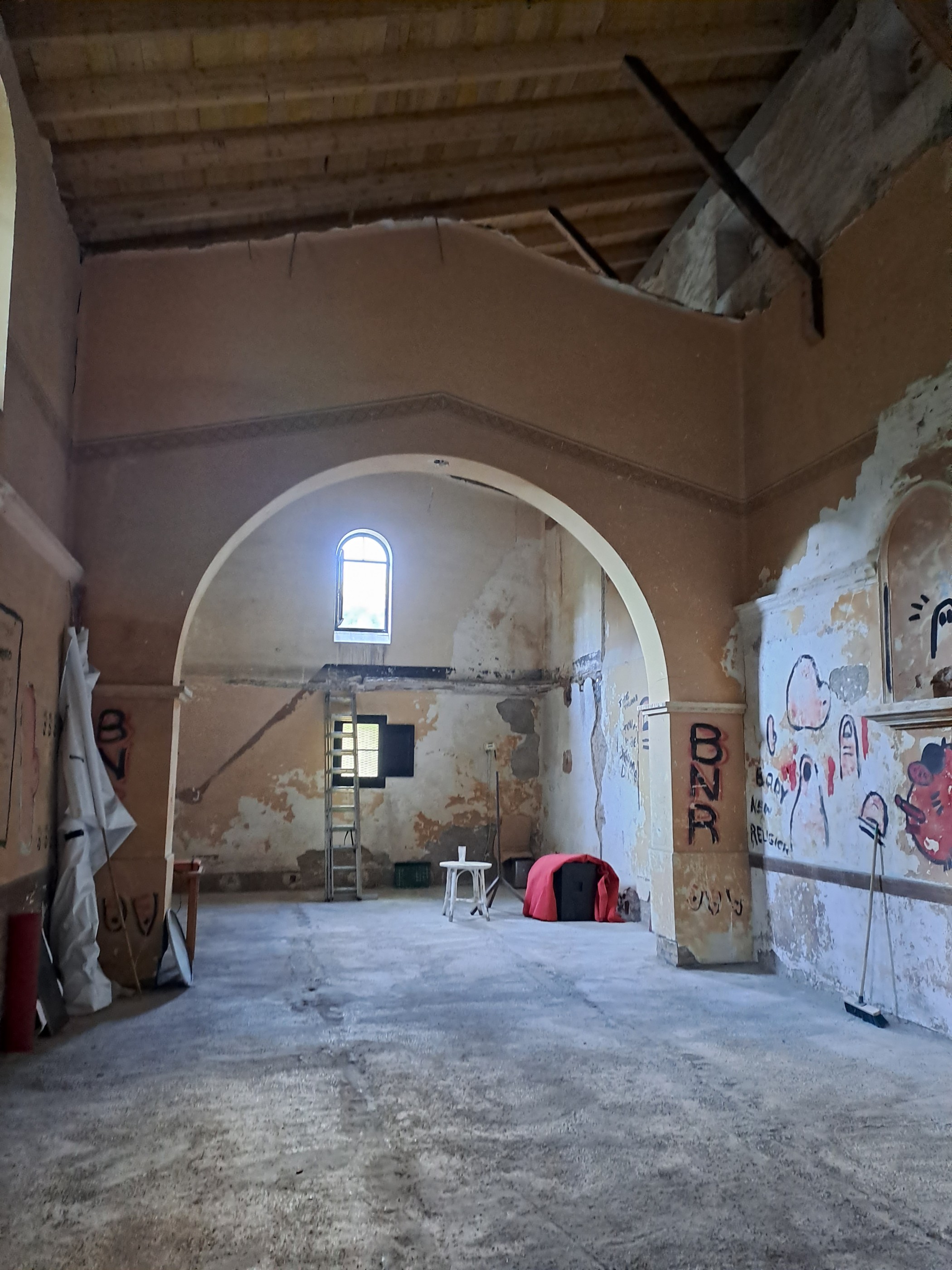 Workshop areas: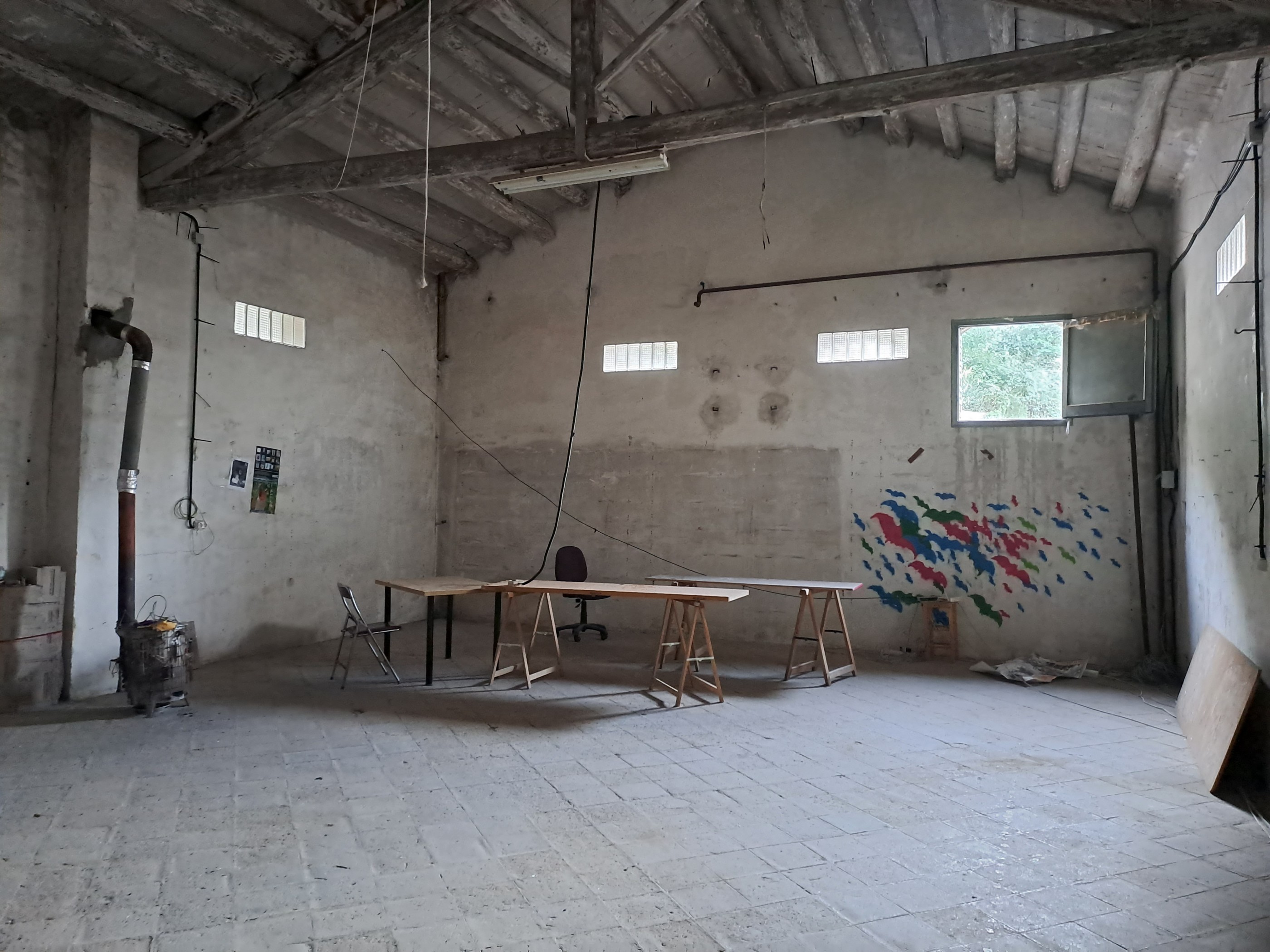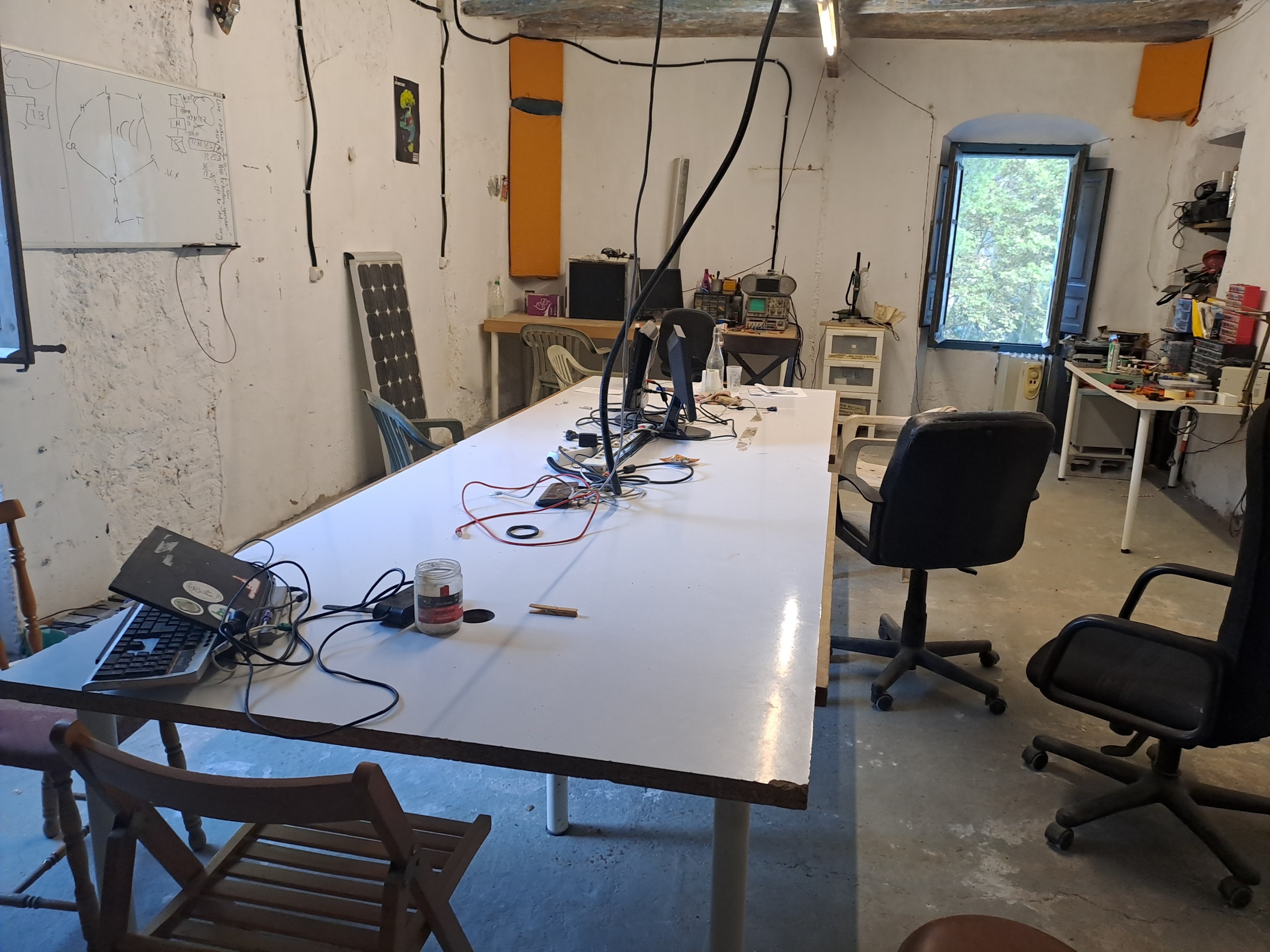 Communal kitchen and recreation area: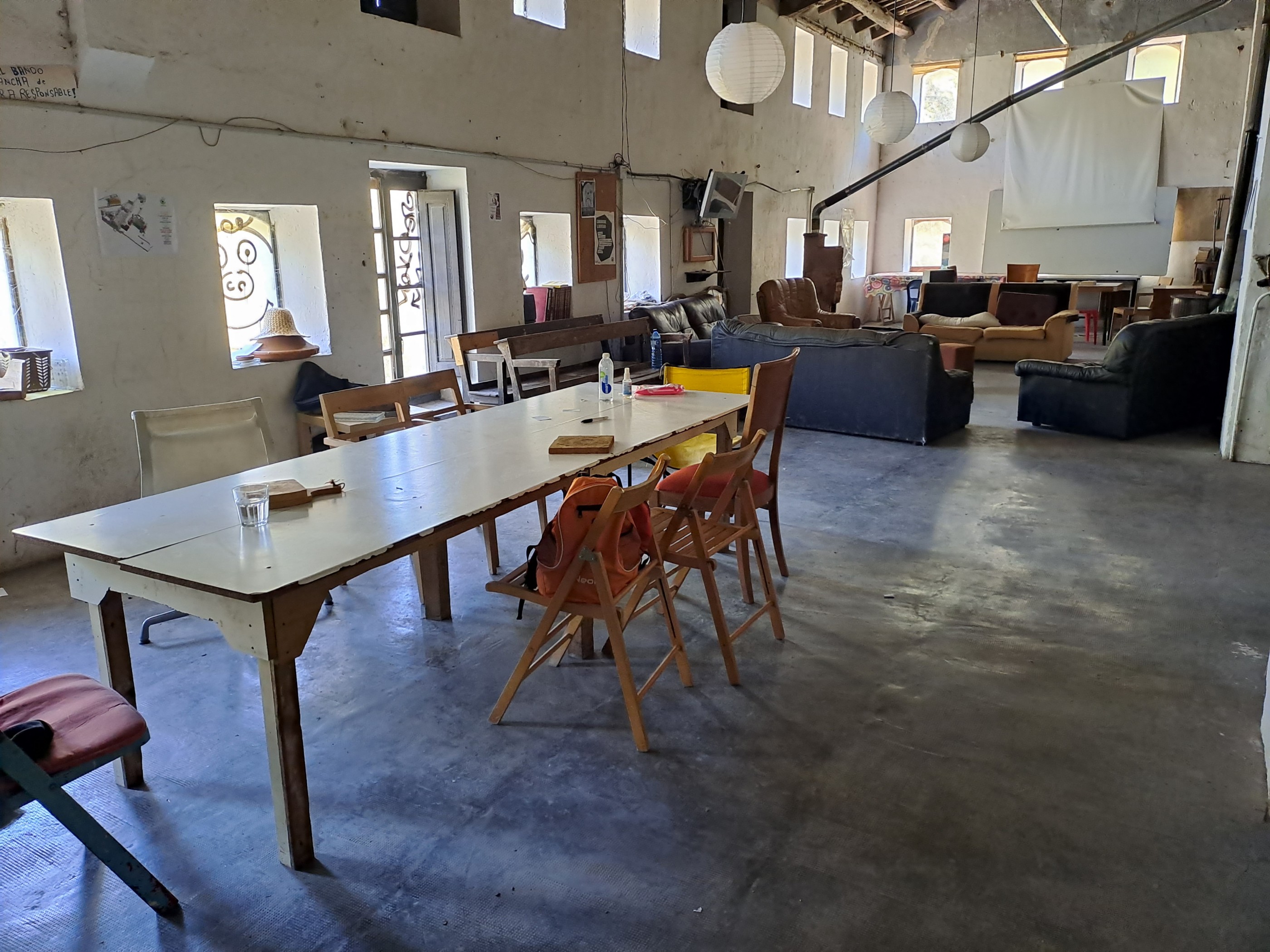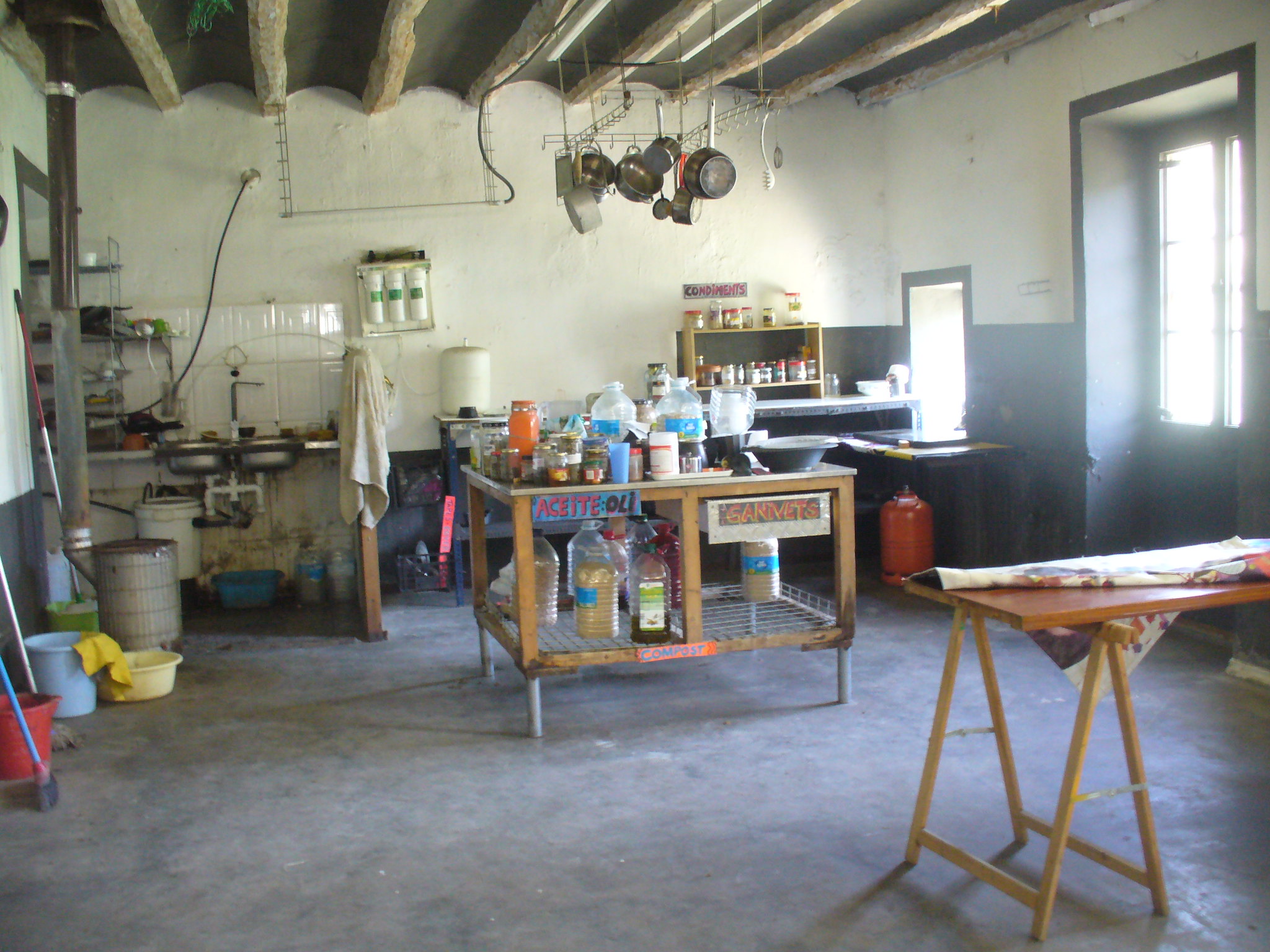 How to come by train
How to travel from BCO to Calafou
What
In brief: we will have organized talks, workshops and discussion panels on community networks and wireless mesh networks (see Call for Participation). There will also be more informal activities: cooperative hacking, self-organized projects, and (we hope) delightful conversations!
Full schedule: #Talk_Schedule_and_Workshops
In addition, there may be a self-organized wireless mesh network, running different routing protocols to compare them. Please coordinate directly on the battlemesh mailing list to make that happen.
How to register
The event itself is free of charge and open for all! However, it makes the organisation much easier if you tell us in advance that you plan to come.
To register, please send an email to v15 at battlemesh.org with the following content:
Subject: Registration

Name and/or Nick

Date of arrival / departure

Accommodation package: [Yes/No; package 1 or 2; room preference (mixed, non-mixed, specific person)]

T-Shirt Size: [S/M/L/none, straight or fitted cut]

Other details you want to share: (e.g. community, country, URLs, twitter/mastodon handle, dietary restrictions, ...)

Do you agree to appear on the public list of participants? [Yes/No]

Are you applying for a travel scholarship? [Yes/No; city; estimated price]
We will then put your name on the public list of participants: https://battlemesh.org/BattleMeshV15/Participants
If you apply for an accommodation package or travel scholarship, we will reply to you shortly with more information.
Accommodation package
Information about the Accommodation package can be found on this page: https://battlemesh.org/BattleMeshV15/AccomodationPackage
The packages are attributed on a first-come first-serve basis, so register as soon as possible!
Catering package
Catering is provided by the Kitchen Crew at Calafou for the full day including breakfast, lunch & dinner. Vegan, vegetarian and carnivore options available.
Catering per day is 18EUR and 15EUR per day if booked for the entire duration of the event.
This catering option is optional but recommended. Calafou is located outside major urban areas which means restaurants / bars are limited. Self-catering also is an option, kitchen and kitchen equipment is available.
Confirm your interest in catering by transferring payment to:
IBAN: ES10 3183 0801 2910 0274 4322
BIC: CASDESBBXXX

subject: WBMv15 catering <participant name>
Paypal payment option is possible, please contact us for details.
Paying in cash during the event also is possible.
Call for participation
We invite participants to propose workshops, talks or panel discussions relating to network infrastructure in general, how it can be built and operated as a common, and how to sustain a community around networking.
We welcome contributions that broadly address these questions from any of several perspectives: technical, organisational, economical, regulatory, juridical, political.  Example topics:
Wireless Community Networks
Community Networks that deploy Fiber-to-the-Home (FTTH) networks
TV white space as a precious network resource (radio spectrum)
Free hardware and free software for Community Networks
How to organize a durable community structure?
How to involve non-technical people? To "digital stewardship" and beyond?
How to disseminate the spirit of community networks, knowledge etc?
Connecting rural areas: challenges and solutions
Public fiber networks: architecture, funding, private actors involved, oversight
Internet of Things (IoT) networks and their impact on society
How to take advantage of a community network in ways otherwise not possible? What are the applications?
Local Internet Exchange Points (IXPs) as a common infrastructure
DNS as a common infrastructure?
Deadline: --TBA--
To submit a proposal, send us an email (v15 at battlemesh.org) with the template below. All information you give us will be made publicly available in the schedule, unless explicitely specified otherwise.
Subject: Event proposal

Name and/or nick
Optional affiliation: community, country, employer...
Event title
Type of event [talk / workshop / recurring workshop / panel discussion / other]
Duration [30 min or 1h for talks, anything you want otherwise]
Frequency [for recurring event]
Preferred date / constraint
Any required equipment (other than a projector)

Summary (about 200 words)
Talk Schedule and Workshops
This schedule is subject to major adjustments.
Download ICS calendar file of the whole schedule (on Android, use ICSx⁵)
Monday - June 5th
| | | | | |
| --- | --- | --- | --- | --- |
| Time | Type | Title | Speaker(s) | Location |
| 09:00-12:30 | | Collaborative set-up of the space | | |
| 12:30-14:00 | | Lunch | | |
| 14:00-19:00 | | Informal welcome | | |
| 18:30-23:00 | Social event | | | |
Live streaming and video recordings
All talks and panels are live-streamed and recorded!
Sponsors
Endorsements
Misc
Battlemesh Coversongs
TODO
Hardware
Please add any hardware that you will bring (and are willing to lend out!) to this table:
| | | |
| --- | --- | --- |
| Name or handle | Quantity | Type of hardware |
| ... | ... | ... |
| ... | ... | ... |
| ... | ... | ... |
Impressions from previous Battlemesh events
Task List
This task list is kept here to track who is responsible for certain things. Please notify on mailing list before you add yourself here. Local team will be inserted here as well, tasks may be added/merged on the go.
| | | | | | |
| --- | --- | --- | --- | --- | --- |
| Task Name | Local? Remote? | Priority | Deadline | Description | Responsible Person |
| Mentor Team | L, R | *** | 6M | Done: Annnouncement, Mentoring Organizers | |
| -> Recon mission: visit the place, find Date | L, R | * | 6M | | |
| Accommodation | L | *** | 5M | | |
| Venue Location | L | *** | 5M | | |
| Financial Handling (Bank Account) | L | *** | 5M | | |
| -> Invoice Handling | L | ** | 5M | - | |
| Public Relations | L, R | *** | 4M | - | - |
| -> Webpage | R | *** | 4M | - | |
| -> Logo | L, R | * | 4M | | |
| -> Endorsements | L, R | * | 4M | - | - |
| -> Poster | L, R | * | 3M | - | |
| -> Press Communication | L, R | * | 3M | - | - |
| -> Merchandise (T-Shirts, Flags) | L, R | * | 1M | - | |
| Attendence List/SignUps (DEADLINE!!) | L, R | *** | 4M | - | - |
| Local Community, Sponsorship | L | * | 4M | Find sponsors for the event | |
| Agenda | R | ** | 3M | Call for talks, review proposals, create schedule | |
| Sponsored Travel Grants | L, R | * | 3M | Organize the travel grants program and announce the results | |
| Test Manager | R | ** | 2M | - | - |
| Firmware Preparation | R | ** | 2M | - | - |
| Hardware for Testing | R | ** | 2M | - | - |
| Test Documentation | L, R | * | 1M | Document test, publish results, correct english grammar and typos | - |
| Transport (from/to airport) | L | ** | 1M | | |
| Transport (from/to venue) | L | ** | 1M | | |
| Venue Equipment | L | *** | 1M | Get a mic/speaker and projector for the talks | |
| Internet Connection | L | *** | 1M | Wired/wireless connectivity to the Internet | Baptiste |
| Food Supply | L | * | 1M | Negotiating a food package | |
| Attendence Certification | L | ** | 1M | Print/sign certificates of attendance | - |
| Social Events | L | * | 1M | Organize a social events agenda | |
| Recording and Streaming | R | * | 1M | Record and stream the talks | |
SubPages
---