BattleMeshV10 - Main Page
---
Mailinglist: http://ml.ninux.org/mailman/listinfo/battlemesh
Twitter: https://twitter.com/battlemesh
Matrix: https://riot.im/app/#/login Room: #freenode_#battlemesh:matrix.org (connect IRC through Matrix)
IRC Chat: http://webchat.freenode.net/?channels=battlemesh&uio=d4
---
The event aims to bring together all people from across the globe that are interested in wireless mesh network technologies and community networks in general.
6 days full of expert presentations, late night hacking sessions, measurement campaigns, protocol discussions, and a whole lotta other meshy things. We will have fun, that's for sure.
Meet the developers from the most popular open source mesh protocol implementations (Babel, B.A.T.M.A.N. L3 and L2, BMX6, IEEE 802.11s, OLSR , etc.) and watch their ideas compete.
When
The event takes place between June 05 - 11.
Where
Volkskundemuseum - The Austrian Museum of Folk Life And Folk Art
Address: 1080 Vienna, Laudongasse 15-19
We are located in the upper floor of very nice historical museum in the middle of Vienna. One large conference room and two adjacent hacking areas are at our full disposal there. The whole area offers nice atmosphere and plenty of room to deploy measurement testbeds. The adjacent park is a beautiful analog distraction, especially during springtime.
The metalab - a very active local hackerspace - is only 5 minutes away.
http://www.volkskundemuseum.at/jart/prj3/volkskundemuseum/main.jart?content-id=1377520150937&rel=de
Participants
We try to keep this list of signed up participants up to date:
http://battlemesh.org/BattleMeshV10/Participants
What
In brief: We will deploy a wireless mesh network all over the place, run different routing protocols on top of it, perform some tests and see which routing protocol behaves better.
Testbed Experiments
Update: Our report on testbed results and the testbed configs, test cases, and raw results are available on GitHub.
The discussion on the experiments and testbed setups is mainly happening on the mailing list Please help us document proposals and decisions in this pad, so others can follow easily:
https://etherpad.funkfeuer.at/p/wbm10testbed
Talk Schedule and Workshops
The schedule is being worked on here: https://etherpad.funkfeuer.at/p/wbm10schedule
A call for ad-hoc workshops can be found here: https://etherpad.funkfeuer.at/p/wbm10workshops
Final conference schedule will be made available via frab: https://schedule.battlemesh.org/
Accepted Talks
Project And Community News
What's up with LEDE? A review of the first year of our OpenWrt community reboot by Felix Fietkau
WBMv10: grassroots event turning 10 Where do we go from here ? by Marek Lindner
Firmware Lockdown Updates 2017 by Simon Wunderlich
The netCommons project, what are we doing? One and a half year after the beginning of netCommons, what we did and what we plan to do by Leonardo
Social Impact of Public Hotspots by Andi Bräu
Using Mesh for Rural Education in India by Senthilkumar M
Digital Souvereign Identity by Markus Sabadello
KadNode: A p2p DNS system based on a DHT by mwarning
---
Workshops
Replicating Battlemesh on open wireless testbeds by Charalampos Manolidis
Minstrel-Blues - A Joint Rate and Power Controller for IEEE802.11 devices Status of implementation, usage and performance by Thomas Hühn
Social and Motivational Aspects - What Makes Community Networks Thrive? facilitated by Lusy and Leonardo
---
Technical Talks
Gluon A Modular Framework for Your Wireless Mesh Community by Linus Lüssing and Matthias Schiffer
Signed Autoupdates for your Zoo of Embedded Devices done right How to avoid work and lost nodes by Bastian Bittorf
Freifunk-Open-MPPT Open hardware and software solar regulator for autonomous nodes by Elektra
Scaling Layer 2 Mesh Protocols 1000 nodes and beyond with Gluon and batman-adv by Linus Lüssing
IEs, We Scan! Using proprietary beacon extensions to facilitate wireless link building by Clauz
Consumer Grade Home Wi-Fi Meshes by Avery
A case introduction of building wireless mesh network testbed in university by Minsu Kim
Funkfeuer Vienna's v642 Project A Journey Towards IPv6 and OLSRv2 by David Hopfmüller
BLUECOM+ Connecting Humans and Systems at Remote Ocean Areas using Cost-effective Broadband Communications by Filipe B. Teixeira
Althea Incentivized mesh by Jehan Tremback
---
Short Technical Talks
Disaster Radio An off-grid low-bandwidth long-range emergency mesh by juul
Running Python-based Experiments on Routers with Seattle by Albert (Local Team)
---
Battlemesh Coversongs - Lyrics with Guitar Tabs
First song: Wir haben Grund zu Feiern von Otto
Second Song: Alles in der Cloud - die Prinzen
Third Song: Freifunklos durch die Nacht - Helene Fischer
Fourth song: Wer hat am Release gedreht
Software
Here you can find the wibed testbed platform, battlemesh packages (a set of OpenWRT packages to be used at the WBM events), and an OpenWRT mirror.
Hardware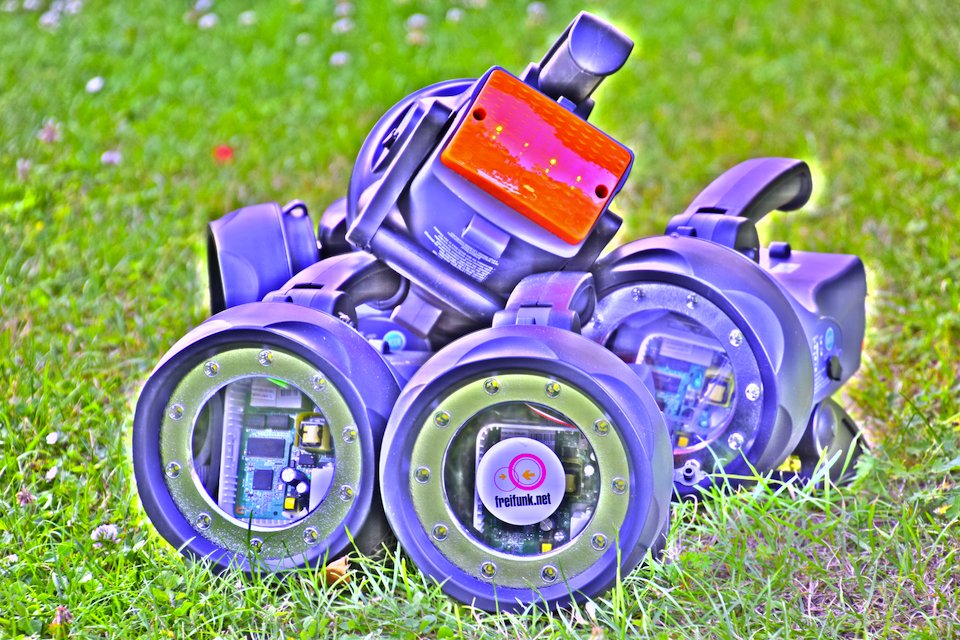 Please add any hardware that you will bring (and are willing to lend out!) to this table:
| | | |
| --- | --- | --- |
| Name or handle | Quantity | Type of hardware |
| Leonardo Maccari | 6 | Ubituiti UniFI AP-PRO |
| Simon Wunderlich | 7 | WDR-4300 |
| Paul Fuxjäger | 10 | WDR-4300 |
| KCinJP | 1 | ALFA Network N2 |
| KCinJP | 1 | ALFA Network Tube-2H |
| KCinJP | 2 | ALFA Network R36A |
| KCinJP | 2 | ALFA Network AP121F |
| KCinJP | 1 | ALFA Network QCA4018 board |
| Filipe Teixeira | 4 | WDR-4300 |
| Ufo | 82 | M5, M5loco + Tplink: 35x850,20x710,5x841,6xre450,1xcpe510,1x8970,2x3040,2x860,2x3600 |
Live streaming and Recordings
Live streaming link:
https://streaming.media.ccc.de/wbm10/talks
Recordings by will be available as soon as they are post-processed.
In the meantime you can watch Ryan's recordings on youtube:
https://www.youtube.com/playlist?list=PL3bvPCw5QCLJ-VJPamVeQx-UPNBVyaopj
Announcement
This page contains the official Announcement: BattleMeshV10/Announcement
Impressions from previous Battlemesh events
Registration
The event is free of charge and registration is optional.
But it makes the organisation much easier if you tell us in advance that you plan to come.
Please send a mail to mailto:v10@battlemesh.org?subject=Registration that looks somewhat like this:
Name and/or Nick

Accommodation Package: [Yes/No]

T-Shirt Size: [S/M/L/none]

Other details you want to share: (e.g. community, country, URLs, twitter handle, dietary restrictions, ...)
We will answer with payment instructions for the accommodation package to those that are interested in one.
Travel Scholarships
Thanks to our sponsors we will be able to offer a few travel scholarships (flight tickets) for non-EU residents.
The application deadline (2017-03-31) has passed, and the organizers have decided to split the scholarship between three applicants from Brazil, Cameroon and Ecuador. Looking forward to meeting you in Vienna!
Travel Information
You can reach Vienna via international travel:
(Some travel organizations might route you via Bratislava in Slovakia which is ~50km from Vienna, and well-connected by bus and train).
A single fare in Vienna's public transportation system costs 2.20 Euro and entitles you to a loop-free, single-direction, one-way trip including changing lines (city train, metro, tramway, bus). Note that the airport is located outside of the city, so the fare is twice that!
There's also a full-week ticket for 16.20 Euro, see the transport company's web page.
Accommodation
For those of you who are looking for a convenient and low cost accommodation option: we have made block reservation in a nice hostel 10-15min walking distance from the Museum.
http://www.oejhv.at/index.php?id=148&L=1
Address: Myrthengasse 7, 1070 Wien
The packages include 6 nights in a four-bed room incl. breakfast for €100.
Follow the simple instructions in the registration section below and we will email you back the payment instructions.
The reservation expires on 8th of May, all individual payments must be confirmed until that date.
Update: a handful of accommodation packages are still available
Send your requests to v10@battlemes.org. First come, first served.
Of course, the accommodation package is not compulsory. You can also find your own bed and food supply yourself during the event if you wish to do so. There are a number of hostel and hotels available, but keep in mind that they tend to be rather booked during summer.
Alternative Accommodation Information
A slightly more modern but more distant hostel:
https://www.wombats-hostels.com
Wombats has been quality tested by the recon mission team - but they would not let us make a large block reservation. Individual bookings should be possible though. And its a nice location, right next to Naschmarkt (street markets and delis).
Private stay:
Airbnb direct link:
https://www.airbnb.at/s/Wien--%C3%96sterreich?guests=1&checkin=2017-06-05&checkout=2017-06-11
And its blue clone, Wimdu:
https://www.wimdu.at/search?checkin_date=2017-06-05&checkout_date=2017-06-11&city=Wien&guests=1
A very useful list of cheap and nearby Hotels can be found here (thx to ninjacon crew):
http://2011.ninjacon.net/location
Contact
Local Organisers
The event is organized by FunkFeuer Wien, Vienna's community wireless network.
The local infrastructure core team currently consists of these people:
Albert Rafetseder (albert.rafetseder at univie.ac.at, key ID 0x90382EC8)
Clemens Hopfer (datacop at wireloss.net, key ID 0x5EBA9D09)
Paul Fuxjaeger (paul.fuxjaeger at gmx.at, key ID 0xB5BB47E7)
Sponsors
We would like to thank the following for making this event possible: Please help us keep the attendance to BattleMeshV10 affordable for all participants! The Sponsor Info page has more details.
For inquiries, please contact the Battlemesh organizers' team at v10@battlemesh.org .
Endorsements
Do you want to help promoting Battlemesh? Please check the EndorsementTemplate!
Blog Ping-Backs and Media Coverage
TBD
What to Bring
Access Points
Ethernet Cables
switches and hubs
your laptop
Task List
This task list is kept here to track who is responsible for certain things. Please notify on mailing list before you add yourself here. Local team will be inserted here as well, tasks may be added/merged on the go.
| | | | | | |
| --- | --- | --- | --- | --- | --- |
| Task Name | Local? Remote? | Priority | Deadline | Description | Responsible Person |
| Mentor Team | L, R | *** | 6M | Done: Annnouncement, Mentoring Organizers | Marek, Filipe, Simon |
| -> Recon mission: visit the place, find Date | L, R | * | 6M | Done: Visit in Mid November 2016 | Marek, Filipe, Simon |
| Accommodation | L | *** | 5M | - | Done: Paul |
| Venue Location | L | *** | 5M | - | Done: Paul |
| Financial Handling (Bank Account) | L | *** | 5M | Done: Assured by Funkfeuer | Paul |
| -> Invoice Handling | L | ** | 5M | - | Done: Paul |
| Public Relations | L, R | *** | 4M | - | - |
| -> Webpage | R | *** | 4M | - | Done: this wiki |
| -> Logo | L, R | * | 4M | Design a beautiful Logo based on this years venue | Done |
| -> Endorsements | L, R | * | 4M | - | - |
| -> Poster | L, R | * | 3M | - | Albert |
| -> Press Communication | L, R | * | 3M | - | - |
| -> Merchandise (T-Shirts, Flags) | L, R | * | 1M | - | Albert, Stefan |
| Attendence List/SignUps (DEADLINE!!) | L, R | *** | 4M | - | - |
| Local Community, Sponsorship | L | * | 4M | Find sponsors for the event | Simon, Filipe,TODO |
| Agenda | R | ** | 3M | Call for talks, review proposals, create schedule | txt.file (MC); Paul (contents); Clemens (frab) |
| Sponsored Travel Grants | L, R | * | 3M | Organize the travel grants program and announce the results | Paul; payment ongoing |
| Test Manager | R | ** | 2M | - | - |
| Firmware Preparation | R | ** | 2M | - | - |
| Hardware for Testing | R | ** | 2M | - | - |
| Test Documentation | L, R | * | 1M | Document test, publish results, correct english grammar and typos | - |
| Transport (from/to airport) | L | ** | 1M | Direct Metro connection | Done: ÖBB, Wiener Linien |
| Transport (from/to venue) | L | ** | 1M | Direct Metro connection | Done: by foot; Wiener Linien |
| Venue Equipment | L | *** | 1M | Get a mic/speaker and projector for the talks | Clemens, Ingeborg |
| Internet Connection | L | *** | 1M | Wired/wireless connectivity to the Internet | Done: FunkFeuer node |
| Food Supply | L | * | 1M | Negotiating a food package | Isa, Paul |
| Attendence Certification | L | ** | 1M | Print/sign certificates of attendance | - |
| Social Events | L | * | 1M | Organize a social events agenda | Paul |
| Recording and Streaming | R | * | 1M | Record and stream the talks | Clemens, Ryan |
SubPages
---